Butoh Jam (Upd: Nov 12, '22)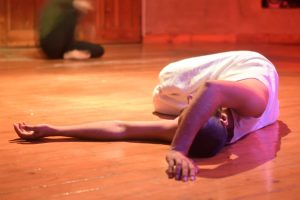 A butoh jam is an event where participants come together to freely engage in butoh. The jams can happen in any variety of spaces inside or outside. 
Generally, there is music accompaniment such as live musician(s), DJ(s), or MC(s). Otherwise, the participants themselves can improvise music/sound despite there being no instruments in the traditional sense. Doors, wooden floor, human vocals, hands, chairs can all become instruments in their own right.
Music/sound however is not a hard and fast rule. Butoh jams at Himalaya Subbody Butoh, for instance, have hosted butoh jams composed of a DJ with video art screening, but also ones in complete silence and pitch darkness.
Sometimes there are props or even art supplies in the space. In this way, they can resemble performance art jams.
As with ecstatic dance events, it is highly recommended to set a rule of no talking during the event in order to encourage everyone's internal process. Butoh jams have also occurred under the moniker "ecstatic butoh," emphasizing play or release of creative energy, regardless of how "pretty" or "beautiful" it looks, which are a tendency of ecstatic dance events.*
The concept of butoh jam was embedded into the guiding method of Himalaya Subbody Butoh. Often, during the last portion of class, the space openened up into Free Resonance Theatre (FRT) generally with audience at one particular space. FRT and "butoh jam" are interchangeable terms.
At Ex…it! Butoh Festival '15, spontaneous short-lived flash butoh jams occurred in random spaces such as the cafeteria. Also consider the flash solo where a personal butoh jam is created anywhere and anytime one wishes. If one can somehow make the dance contagious to other strangers, this is a whole other level, unless one desires to not be noticed. Such will result in a disguised dance or a secret butoh or invisible butoh inspired by Augusto Boal and Panagiotis Assimakopoulos's concept of Invisible Theatre where the spectators feel your act is an unstaged, non-performative event.¹
In the butoh jam, we may see audience/performer integration take place which is also associated with some performance art. The audience at any moment may join and what would have been seen as performance may the next minute be spectatorship. We can call the breaking of the performer/observer dichotomy perforbserver or spectactor.
Spontaneous Performance Procession
First developed by the butoh guide Alessia Mallardo, the original idea was for a group to jog on a trail into the hills. It can be viewed as a form of multiple site-specific butoh jam and nomadic rhizome parade. At any moment anybody (due to resonating) can stop and perform for 1 minute at any place along the way which the others will then stop to witness as audience. When the performances finishes, the jog will continue.**
Development
The spontaneous performance procession (SPP) has been enacted multiple other times in 2022.*** The evolution of this activity grew to include the following: (1) shifting leaders who can also vary their leading speeds from walking to running; (2) a clear signaller (utilizing clave sticks or a chime) for when a performance arrises; (3) an option for others to join as duet or cobody (group).
The activity is also now being called Resonant Goat or Walking the Goat.
Observations
Because the individual only performs if strongly inclined due to an external stimulus (resonance), they may better feel and develop a performance ease, a flow. When we resonate strongly with something, we are not trying. We are being done to. The space, in a sense, is performing us. A prominent resonance and/or dissonance can bring out the performativity in anybody, even those who never took a single acting or dance class or never thought of themselves as a performer.
SPP can be a useful tool for butoh performance due to: (1) resonance; (2) being present; (3) breaking from past concepts of performance space; (4) group awareness.
When we are in resonance, we are not in the head. So another way in which SPP is useful is in trusting in the moment instead of relying on preparation and choreography.
The nature of SPP places the participants in the moment and in a focused, open, and searching state as if antennas were placed on the body for sensing the most resonant performance space. A curiosity to all traversed space opens up. The world becomes more of a stage. Spaces not priorly viewed as performance spaces will be incorporated into potential spaces that may be revisited in the future.
The happening breaks the confines of past concepts of performance and performance space. The thrill of also not knowing what will happen is part of the allure.
The procession is also structured in such a way that everyone must be present within the group. When the performance ends, for instance, there must be group awareness for a new leader to smoothly surface in order to keep the procession in order.
Sub-specifics
Though SPP is a site-specific exercise, within the site can appear other moments that can inspire a spontaneous performance:
sound-specific: Any kind of sound can inspire a performance whether it is coming from nature or machine.
light-specific: light and/or shadows of a site can inspire a performance.
costume-specific: There may come an occasion where a spontaneous costume can be generated such as with mud, clay, branches or even a bee protection suit**** in which case a spontaneous performance can be based in the character.
color-specific: There might be a site that has a specific color to it that provokes a spontaneous performance.
Future development
Extending duration beyond 1 hour
Rural space version
Music, live or pre-recorded
Night version (with torches or lamps)
Strangers/unknown audience also allowed in the processional. These audience members, regardless of never having acted or danced in their life can also perform if they wish.
The performer is always the new leader which will lead to better transitions from performance to procession
The leader can either walk or jog in a passive way or add a performative element to it, in which case, those following behind have the choice of: (1) following as passive witnesses/audience or (2) performatively mirroring or resonating with the world of the leader
Anybody else in the passive processional line of audience/witnesses can also choose to follow the leader but in their own performative way/world. This can be viewed as behind world. The behind world is not mirrored or resonated with from anybody in the front because this may take the focus away from the forward action of the processional
---
¹ Boal, Augusto. 2000. Theatre of the Oppressed. 3rd ed. London: Pluto.
* The label "ecstatic butoh" has been used at Himalaya Subbody Butoh in Dharamsala, India and Cultural Center "Nektan Art" in Belgrade, Serbia.
** As part of the butoh retreat program at Tiyatro Medresesi (now Stoa) in Sirince, Turkey, February 2022.
*** SPPs have occurred at the Beyond Limits Butoh Intensive in El Calabacino, Spain (June, '22), Nunisi Retreat Center in Nunisi, Georgia (May '22), and multiple times again at the Stoa theatre retreat center in Sirince, Turkey for the Flower of Death butoh program (Oct '22).
**** Occurred during the Flower of Death SPP at Stoa in Sirince, Turkey.