Butoh Jam (Updated: 11/29/20)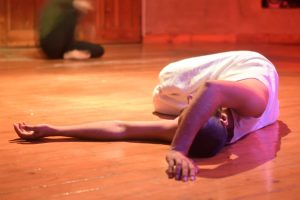 A butoh jam is an event where participants come together to freely engage in butoh. The jams can happen in any variety of spaces inside or outside.
Generally, there is music accompaniment such as live musician(s), DJ(s), or MC(s). Otherwise, the participants themselves can improvise music/sound despite there being no instruments in the traditional sense. Doors, wooden floor, human vocals, hands, chairs can all become instruments in their own right.
Music/sound however is not a hard and fast rule. Butoh jams at Himalaya Subbody Butoh, for instance, have hosted butoh jams composed of a DJ with video art screening, but also ones in complete silence and pitch darkness.
Sometimes there are props or even art supplies in the space. In this way, they can resemble performance art jams.
As with ecstatic dance events, it is highly recommended to set a rule of no talking during the event in order to encourage everyone's internal process. Butoh jams have also occurred under the moniker "ecstatic butoh," emphasizing play or release of creative energy, regardless of how "pretty" or "beautiful" it looks, which are a tendency of ecstatic dance events.*
The concept of butoh jam was embedded into the guiding method of Himalaya Subbody Butoh. Often, during the last portion of class, the space openened up into Free Resonance Theatre (FRT) generally with audience at one particular space. FRT and "butoh jam" are interchangeable terms.
At Ex…it! Butoh Festival '15, spontaneous short-lived flash butoh jams occurred in random spaces such as the cafeteria. Also consider the flash solo where a personal butoh jam is created anywhere and anytime one wishes. If one can somehow make the dance contagious to other strangers, this is a whole other level, unless one desires to not be noticed. Such will result in a disguised dance or a secret butoh or invisible butoh inspired by Augusto Boal and Panagiotis Assimakopoulos's concept of Invisible Theatre where the spectators feel your act is an unstaged, non-performative event.¹
In the butoh jam, we may see audience/performer integration take place which is also associated with some performance art. The audience at any moment may join and what would have been seen as performance may the next minute be spectatorship. We can call the breaking of the performer/observer dichotomy perforbserver or spectactor.
---
* The label "ecstatic butoh" has been used at Himalaya Subbody Butoh in Dharamsala, India and Cultural Center "Nektan Art" in Belgrade, Serbia.
¹ Boal, Augusto. 2000. Theatre of the Oppressed. 3rd ed. London: Pluto.